Ride and Glade management 2
Autumn and winter 2019 is upon us and we have been soaked with high levels of rainfall here in South Devon.
Rainfall
August saw 4.04 inches, September saw 4.54 inches and October a whopping 9.05 inches. This is in contrast to last year whereby we didn't see any significant rainfall until the latter part of November.
Aside from the wet conditions we have managed to get stuck in to our winter projects.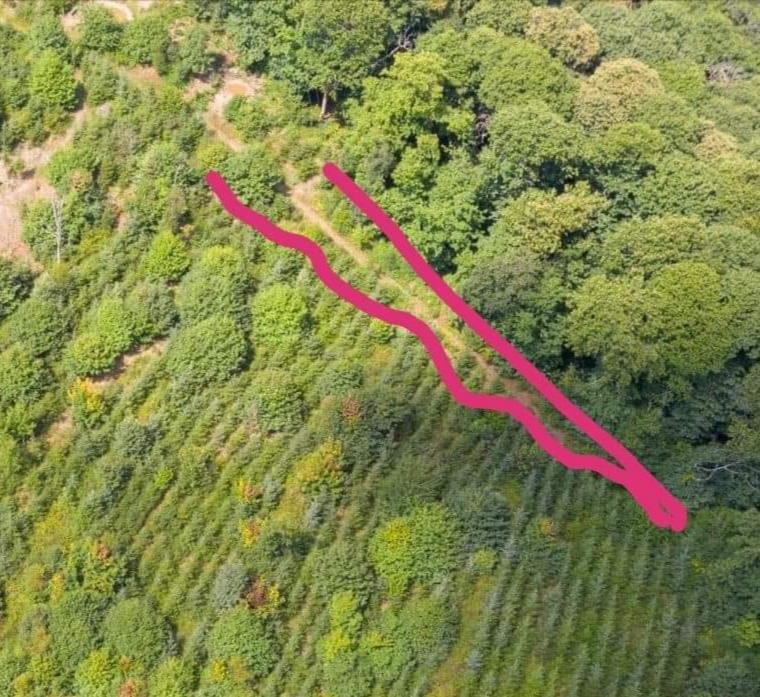 Our first objective was to widen the West to East ride in order to provide a better foraging area for the bats, butterflies and Nightjar.
In places this ride was closing in at canopy level with the adjoining large Sweet Chestnut trees. Bats utilise linear features for navigation therefore widening the ride will assist with their movements as well as their foraging.
In places we have widened by up to thirty feet and have created an undulating border to the Sitka to create more edge effect rather than a straight line.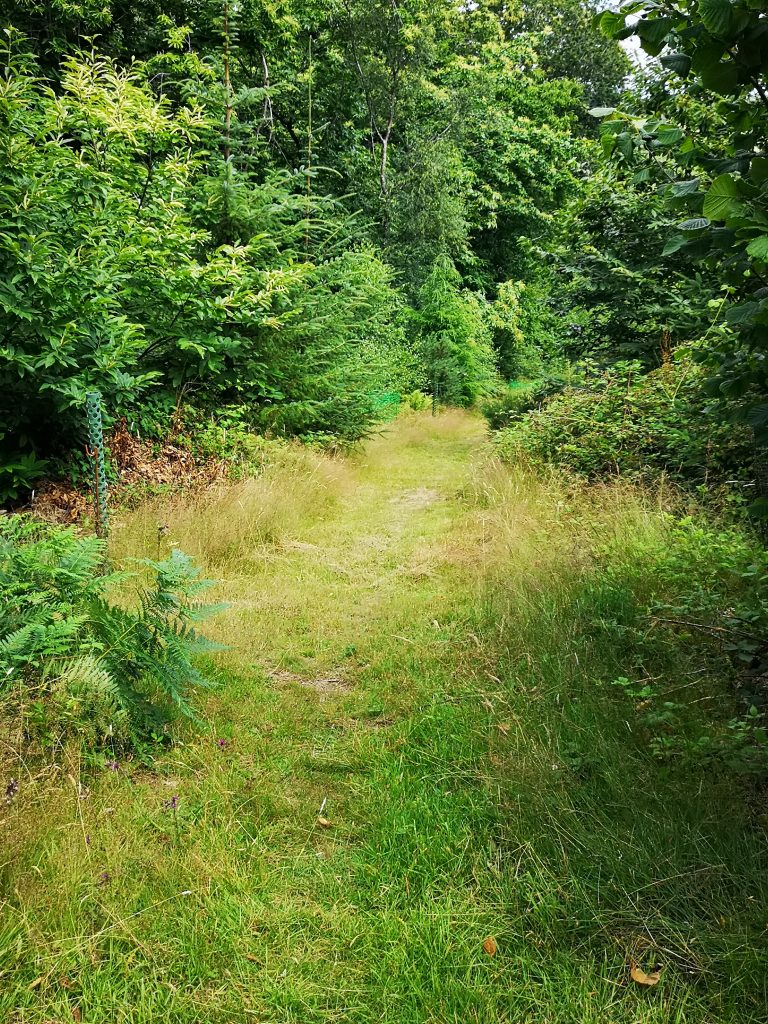 Although this will suffice for now it will be an ongoing task to maintain and develop further as our main goal is to transform the site to an open, natural deciduous woodland but still retaining small pockets of Sitka acting as buffer zones and continued habitat for some species such as the Siskin.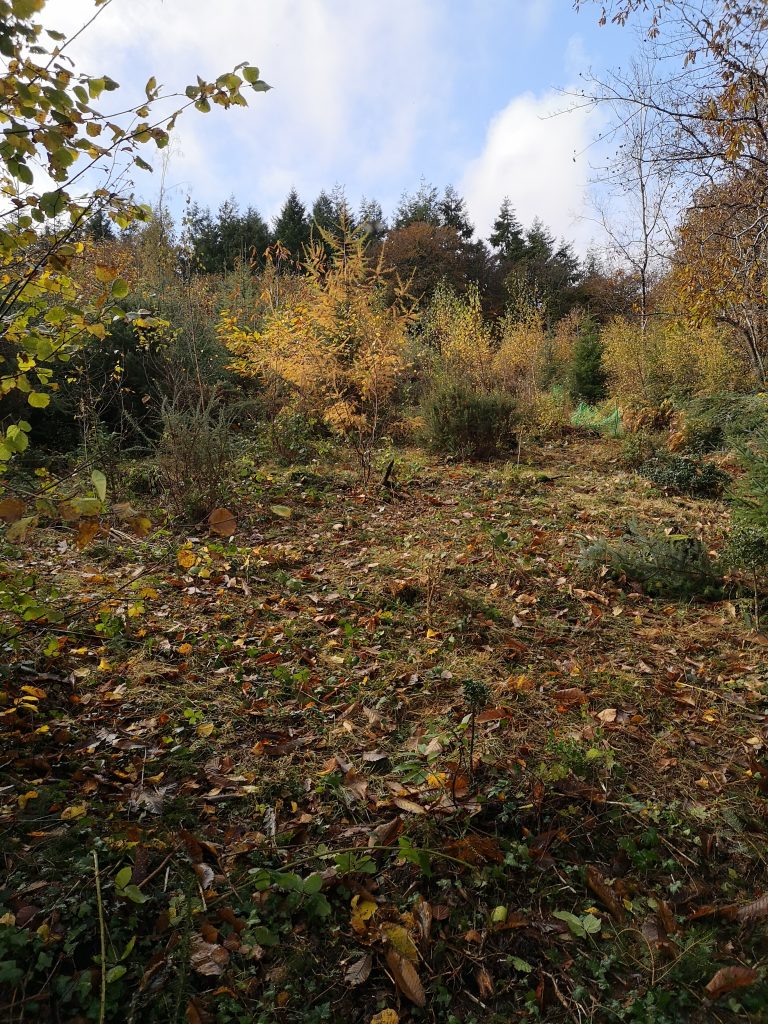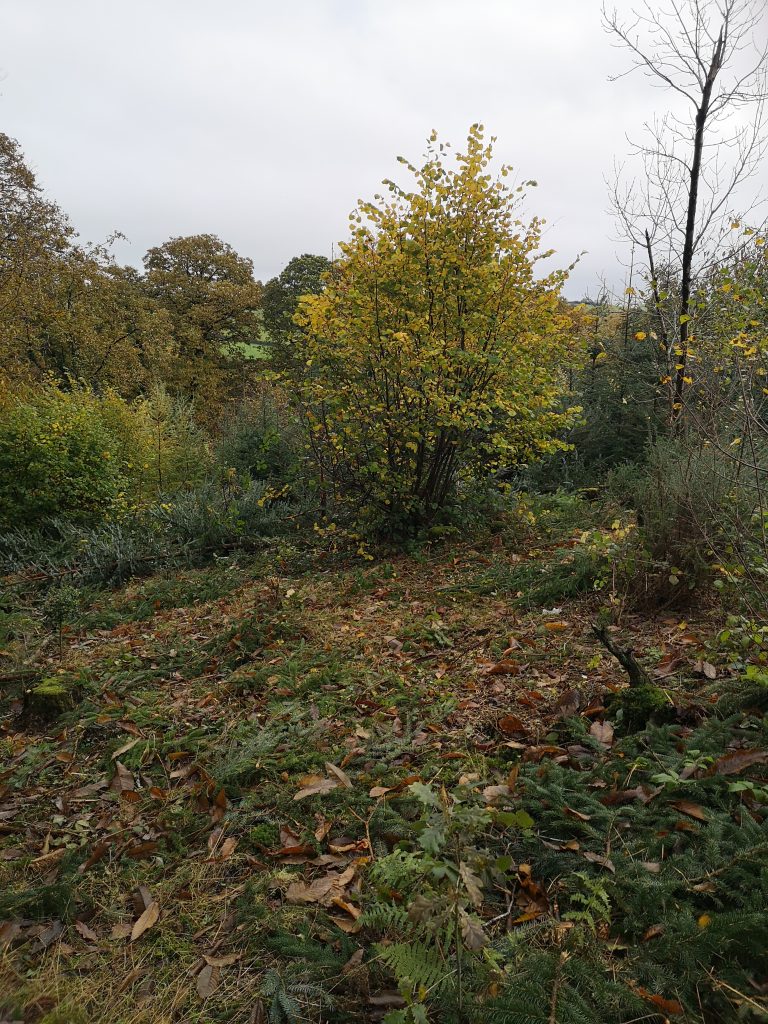 The Sitka
The Sitka were planted in high density in 2013, a year after the site was clear felled. I would estimate that we have between 1,500 and 2,000 of them. Sitka's biodiversity contribution is limited although some birds will benefit from keeping some of them such as the Siskin and Goldcrest.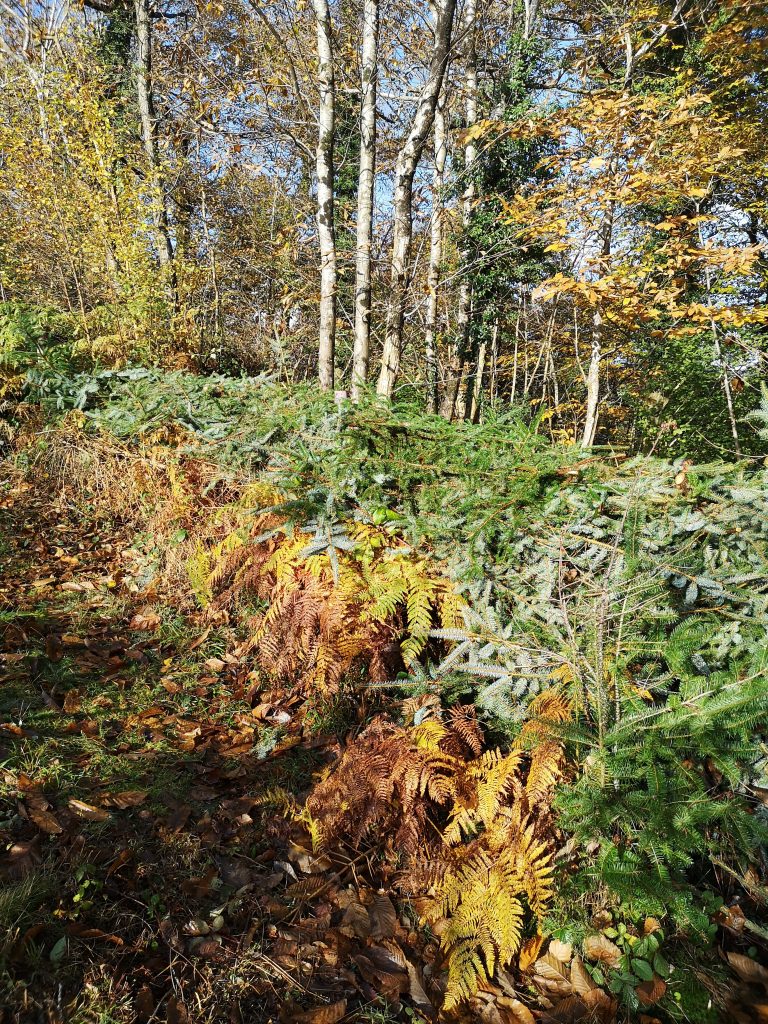 Windrows
During clear felling piles off brash and debri are placed into longitudinal strips called windrows. These provide an essential habitat after such operations. Over time these rot down whilst still retaining a structure hugely benefiting the biodiversity and the woodlands ecosystems. We have several of these skirting the contours of our site.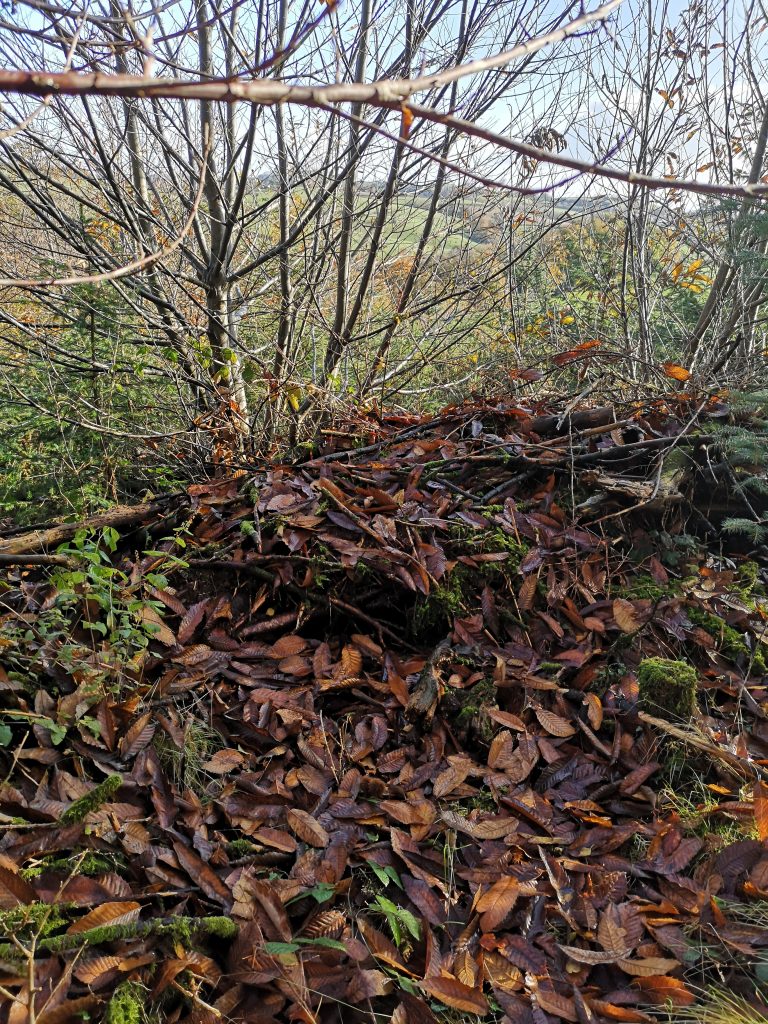 The Bramble that is growing on and around the windrows will be left as will random areas of gorse. We have a large amount of gorse and cutting some of it down to ground level will do no harm as it regenerates very quickly. New gorse growth is much softer and will provide additional structure and habitat to the ground level.
Bramble, bracken and gorse are essential components in our woodland and although we have them in abundance we are mindful of accidently clearing too much.
Shrub layer
This is lacking in our woodland and is one of our key focuses. Having a gradient of cover of various species from the herb layer to the canopy layer is very important for biodiversity. In this particular ride we will be planting some new species such as Hawthorn, Blackthorn, Goat Willow, Dog Rose, Dogwood, Crab Apple and Buckthorn. These new plants will provide berries in the Autumn for different species of birds and a nectar source for early pollinators. They will take a few years to establish but will then also provide essential cover and habitat.
More Rowan will be planted this winter, some that went in last year have exceeded two meters in growth. We were surprised that Rowan was not present in our woodland but they are taking well and will also provide an additional food source.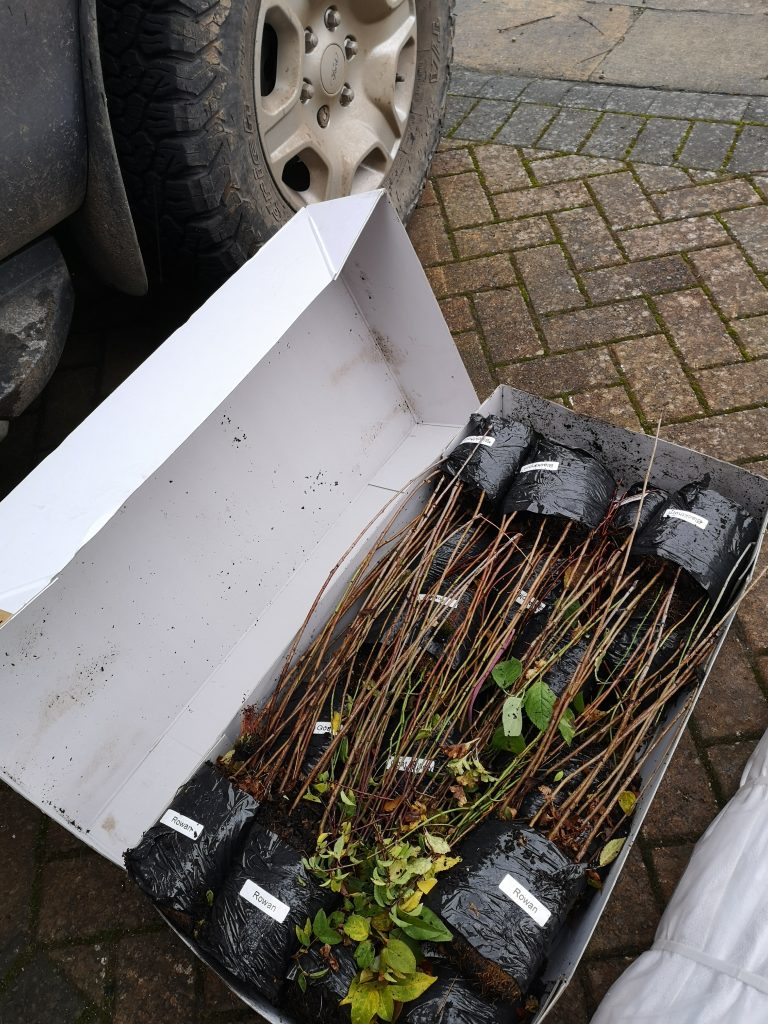 Dog Rose
A new species to our wood although we did plant some in a hedgerow last winter. Has pink/white flowers and red berries in the Autumn known as rose hips. The plant can climb up through other species nearby. Will provide nectar and berries.
Dogwood
Stunning coloured stems in the Autumn, often seen in native hedgerows. Deciduous shrub providing good ground cover, nectar and berries.
Blackthorn
Stunning flowers in March/April with white blossom providing nectar for early pollinators. Produces Sloe berries in the Autumn. Very thorny which in turn provides a safe habitat.
Hawthorn
Similar to Blackthorn, very common in hedgerows, produces cream/white flowers in May. Produces red berries called "haws" in the Autumn. A valuable nectar source and safe habitat. Currently scarce on our plot.
Goat Willow
Currently not on our plot although we have found a couple small Grey Willow. Commonly known as pussy willow. Caterpillars feed on its leaves and catkins. This willow provides an early pollen source.
Crab Apple
Often seen in UK hedgerows and parks, it's fruit is eaten by birds and mammals. Stunning pink/white flowers are a valuable food source for bees and other pollinators. Another new species to our woodland other than a few we planted last winter in a hedgerow.
Buckthorn
A native hedging plant that can grow quite large, produces red berries which turn black in the Autumn. A dense cover provides great cover for a number of species. This plant is one of the few food sources for the beautiful Brimstone butterfly.
These will be planted with additional Rowan and Hazel, most will be planted randomly with some grouped together.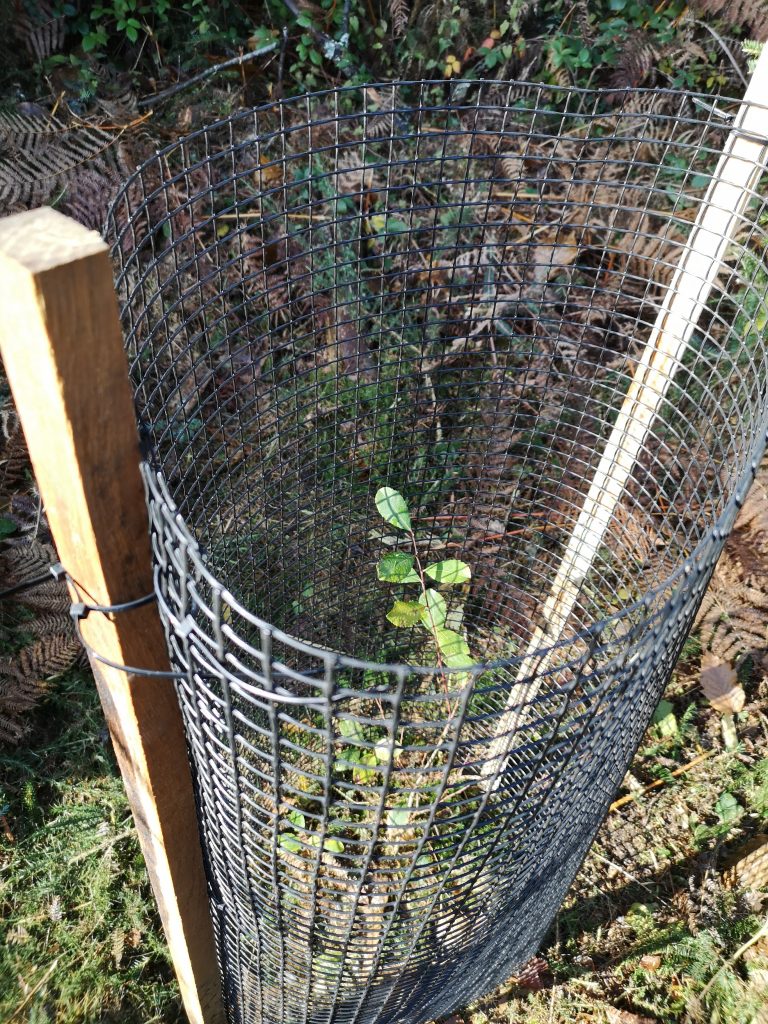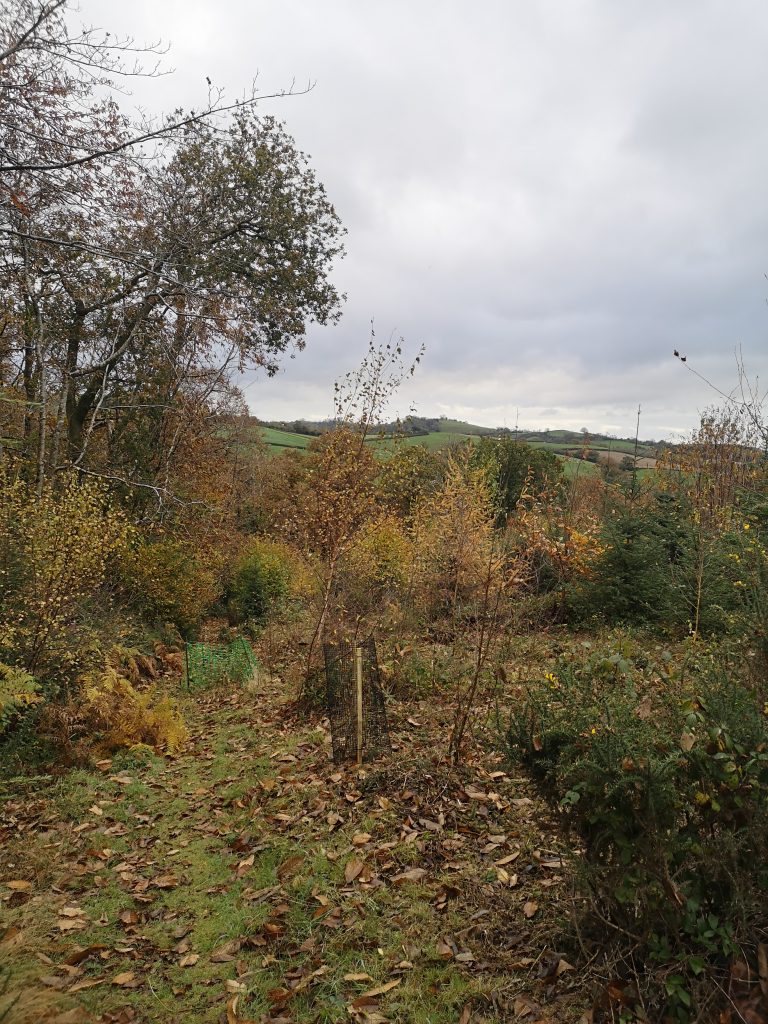 Around this cleared area we have also scattered some more Yellow Rattle seeds which will suppress the grass growth as its roots are semi parasitic. This is a great annual plant and the deer seem to ignore it. We have also sown some Stinging Nettle seeds and will do so again in the spring. These are lacking in our plot and offer a valuable food source for as many as forty different species of insect. Notably the Peacock and Small Tortoiseshell caterpillars feast on this plant. Aphids also colonise the plant which in turn provides food for Ladybirds.